Solar LED Nylon Lantern-Yellow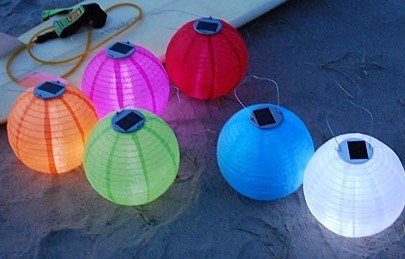 Size of nylon lantern is 10" high and 9" wide.
Horizontal wire ribbing.
Solar housing compartment is attached to the bottom of the lantern. This holds an LED light and one AAA rechargeable battery.
Equipped with an on/off switch. 
Metal wire handle for easy hanging.
Base unit included for tabletop use.
Outdoor use. These lanterns are fade and weather resistant. Extreme weather may cause them to wear down quicker.
Needs between 6-8 hours of full and direct sunlight during the day to stay charged for 4-6 hours during the evening.
Results will vary depending on location of the lantern, aspect of the lantern to the sun and time of year.  
Minimal assembly required. There is a metal insert which expands the lantern.
More lantern colors are available. OEM is welcome.